Spring Harvest 2014
Best half hour of the day .... The Big Start!
Night 1
The figure in this picture was being led above the waves which threatened to engulf him. He couldn't see his final destination and to stay on the path he was on required him to trust and not focus on the waves. On this night people were coming forward to put prayers into pockets on a cross. As they did this many of them also came to me and told me what their particular 'waves' were e.g mone, broken relationships, ill health. I labelled the waves with many of the concerns.
Night 2
On the second night we considered a Father that we could trust. At first I had thought about a child holding his father's hand or sitting on his shoulders but neither of those things said 'trust' as much as a child that would leap from a height into his father's arms!
Night 3
On Night 3 Barnabas Man gave his testimony. He was a survivor of the harshest treatment in the killing fields of Cambodia and yet he spoke with joy of Jesus 'the suffering son' who was with him in the darkness.
Night 4
We focussed on the risen Son on night 4.
Night 5
On day 5 we thought about 'The Unstoppable Spirit'
I kept the background of the big painting for the evening fairly abstract..... there was darkness, disorder, confusion but when the Spirit came there was great transformation!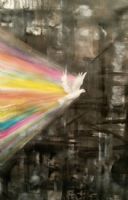 Spring Harvest 2013
Had a great time at Spring Harvest. Here are some of this year's paintings.
My photos are not great, having only been taken on my phone so if anyone was there and got some better shots please e mail them to me
lynnepugh@hotmail.co.uk
I'd love to see them.
(BTW I give full permission for people to take pictures to have on their phones or computers for their own personal use ... a lot of artists don't.... but please do not print, distribute or try and sell the images. Contact me if you need this clarfying :) )
I accept commissions to repaint the pictures (or similar) and will even travel to your churches or community events to do this. (eg Some churches in Devon booked me to bring people to the 'Church tent' at the Mid Devon Agricultural show..see the youtube clip)
Night 1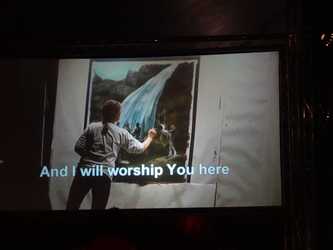 Returning to The Source was the theme of the week. Each day we looked at the example of Jesus and thought about how we are called to live. The painting was used as a place of response as people 'returned to the Source'.
My friend managed to get this picture as it appeared on one of the big screens.
This was a line from one of the songs 'I will worship you here' and I love the photo because this is what I do with paint (and with singing too but fortunately you can't hear that!)
Night 2
Les Isaacs inspirational talk was about 'Hope'.
I feel my painting still has another stage to paint over the top but at the moment the figure is lifeless,
lying among rubbish, vulnerable and inert.... until God breathes on them. In the light coming into the body it says 'Ruah' the Hebrew word for life or Spirit .... It is the life giving breath of God that we see in Genesis. It is also a term used for the Holy Spirit.
(This has just reminded me of the words of that old hymn 'Breathe on me breath of God, fill me with life anew ...')
Night 3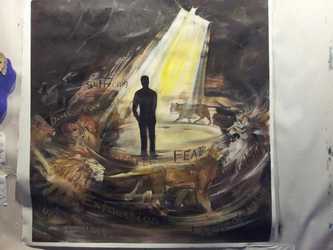 On the third night, Patrick Regan spoke movingly of the work of XLP and of mentoring struggling young people in the community. The title of the evening was 'Courage' and we considered the things that discourage us and cause us to give up.
The pictorial reference here is Daniel standing firm despite being circled by lions. The 'lions' for us may be suffering, exhaustion or lack of self esteem ...or any number of things that take away our courage.
Night 4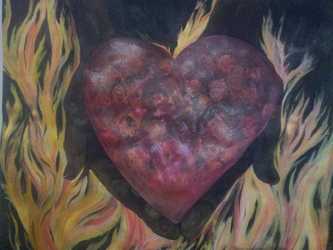 Wess Stafford talked of the passion God has for children and that we should be passionate about them too... for their welfare, for their place in our churches.
In this painting the heart is held in a pair of hands which shield it from the fire. It is filled with the faces of many children.
Night 5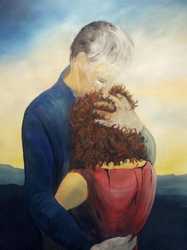 Tania Bright-Cook shared her moving testimony of returning to a merciful God.
The painting fitted well (although I was longing to finish it in more detail....2 hours is not enough some nights!) Painting the rips in the dress made me cry ... that caught me by surprise! I just kept feeling the joy of the father as he hugged her tight and exclaimed 'You're home!'.
Privileged to hear some amazing stories as God used this picture to speak to people ...may it continue to be used in its new home in St. Ives.
For night 3, 4 and 5 I was joined by fellow artist Zoe. See more of her work at
www.zoemckellar.com/
The children made banners every morning which reflected the theme for the day
Jesus is The Source of Good News
Be, Say and Do the same!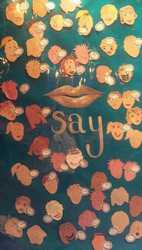 Spring Harvest 2012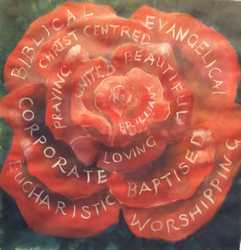 Night 1. The Church - God's Brilliant Idea. Acts 2:41-47
Night 2. Let them shine. 1 Peter2: 4-10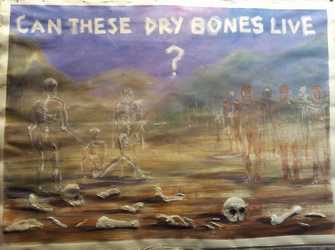 Night 3. Give them Power. Ezekial 37: 1-14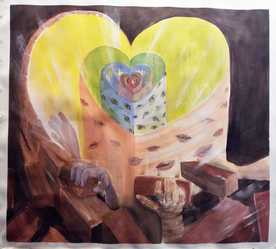 Night 4. Help them love. Nehemiah 1

Night 5. Make them One. Rev 7:9-17
Pictures from the Evening Celebrations 2011
2010 On the first night we were introduced to the theme of living beautifully whatever the circumstances of our lives. Our lives may seem 'messy' with difficult work or family situations but we need to bring them to God so He can help us to 'blossom' right where we are. I have represented this here with a painting of a rubbish tip. Roses grow through and over it, transforming it.

Night 2

We are called to live distinctively in

the world (represented here by the newspaper.)

Our lives should have an impact on and be a witness to those around us.

As seen on T.V!

On the third night we looked at the challenge

of being a light to a dark world...to speak out.

The message of the picture for many people

however was that God wanted them

to be 'broken' so that He could use them.

In the Big Start the children made litte reflective images of themselves to light up a dark world (Picture taken after many 'little lights' had been taken back to their chalets!)

I really thought I would have

finished this before the first

set of songs finished!

One morning the children were thinking about belonging to church

and they demonstrated this visually

by choosing one of the many different textured and coloured strips and weaving themselves in. It was amazing how they all seemed able to do it and the effect was striking. I had many adults who wanted to do the same and some blind guests really seemed to enjoy the many different textures of this picture of 'church'.

I had in mind something much more ornate but in the end I think the time enforced simplicity spoke more clearly.

On the 4th night Ruth Valerio talked to us about taking a risk, stepping out in faith. She described it as standing on the edge of a huge chasm, looking down into it and feeling the fear of falling. When she looked up, however, she was being lifted on eagle's wings, that God was carrying her through the difficult time. It was a very powerful image of how we need to trust God and not worry.

On the final evening the message was about 'finishing well', the picture is about being stirred to action.... taking the light we have found into a dark world and making a difference to the lives of others. I can't wait to paint this one up on a canvas! (Handy hint to those who paint on lining paper.... make sure the whole thing gets some paint! Dry areas mean that as the paper shrinks the dry areas appear to 'bag'.)

A lot of people saw themselves in this picture ...Working with addicts, the elderly, with children....I wish I could have got a better photo!