Well, slow on the update again but hello to the many new visitors to my website!
My output of paintings has dramatically increased since I have a proper place to work (and somewhere I can leave paintings out to dry!) Most pictures appear very quickly on my Facebook page 'Artist ~Lynne Pugh' if you would like to see what I am up to!! I have had several interesting commissions recently. Other pictures may be found on the Veritasse art website.
I had a great time at Spring Harvest again this year. It was my first time at Skegness and I loved painting during the evening sessions and working on an art project with the children each morning in 'The Big Start'. The change of venue and the opportunity to display prints, cards etc in the Skyline worked well and it was great to meet so many new people.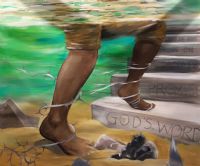 I also an amazing week at Spring Harvest in France ( La Pas Opton) where I was leading watercolour workshops as part of their Creative week. Despite some claiming to be complete beginners the group produced some fabulous work !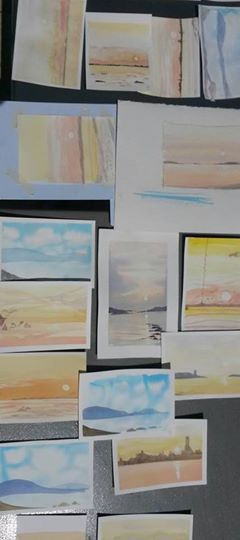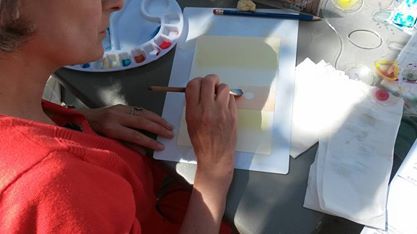 In August I went down to the Royal Cornwall Showground for 'Creation Fest' and I was in Devon for 'The Bush Conference' at the end of the month.
Weekly classes started back in September and this term we needed to start a new Thursday class to fit in all of those who wished to try Acrylics. Get in touch if you would like to join us.
last week I was speaking to a ladies church group about how God uses the eyes to speak to the heart and next month I am speaking to the Andover Platinum Fellowship.
I have been booked to work with several different art groups in the next few months but if your group would like a visit do get in touch.
Sales of cards and prints continue to be steady .... most of my paintings can be turned into cards and prints, just ask. Orders are placed very easily here on this website and payment is via paypal so its all secure. I have recently sold 3 original paintings too that didn't even reach the website!
One of my best sellers this year has been the little painted slates on easels.
If you would like a mug, mouse mat, pen or a T shirt with a painting on, that can also be easily arranged. See image below!
If you are interested in commissioning a painting from me or
joining an art class you can contact me via this site or ring 01264 353466